So, we all know the gym gets full every new year with people trying to stay true to their fitness resolutions (which we all know never last). What a lot of people don't realize is that sometimes, the regular gym routine is just not for them. It could be the complicated machines or the fact that you're just running in the same spot over and over again which kind of bores you to death.
These days, working out doesn't have to be boring. You can get into shape by doing so many different kinds of activities and we have lined up 10 we think you should try this new year.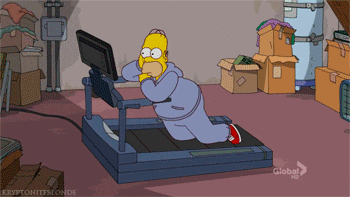 Boxing at Elite Boxing
Channel your inner Mohammed Ali and start boxing classes. 
Boxing works in and out with your mental strength, body strength endurance and a lot more.
With boxing you get a full body work out as it targets your whole body.

I hear the Victoria Secret models do this * Buys boxing gloves*
Venue: Victoria Island on the first floor of Ibukun House, Plot 1637 Adetokunbo Ademola, opposite Eko Hotels and Suites
Yoga at Chi's Yoga             
If you dont like jumping and skipping around , this is the class for you. Yoga works on the mental and spiritual core.
There is a soothing feeling you get right after Yoga. It also works on the whole body and gets you a lot more flexible.
Venue: GQ Lagos, No 16 Oyinkan Abayomi Drive, Former Queen's Drive, Ikoyi, Lagos, Nigeria.
Zumba at Bodyline Gym
Love to dance? Need calories and fat burning? This is for you. 
Have the best time doing what you love and shredding the extra weight off.
Venue:6 Bank Road
 Safari Dance at Fuzion Fitness Centre
This is basically Zumba's African cousin.
It has been described as a unique mix of African dance styles and fitness.
Shoki to some abs? Why not.
Venue: The Homestores, 282 Akin Olugbade, Off Adeola Odeku, VI.
Spinning at Proflex gym
It's basically like a fun bike ride with great friends and good music. And you shred fat.
Count me in!
You can also envision yourself as Ariana Grande in 'Side to Side"
Venue:

Rocky Island Complex,20-24 Ozumba Mbadiwe road
Karate at Collins Karate Network
Karate is a great activity that keeps you physically active. You get a full body workout, enhances your  stamina, muscle tone, balance and strength. Also has benefits for the heart. It improves you reflexes
Venue: 35, Pioneer Tekof St, Lekki
Aqua Zumba at Your Spa and Fitness
You love Zumba, so why not try Zumba in water? This is definitely a must do if you live in Lagos where the sun is constantly burning.
Venue:Plot 9/10 Block 2 Oniru Chieftaincy Estate, P. O Box 53197 Ikoyi, Lagos, Nigeria
Pilaties at Bodyworks Fitness  
Just like Yoga, Pilates target your flexibility and helps you gain lean muscle. 
It helps you gain a balanced body and reduces the risk of getting injured.
Venue:3, Obafemi Anibaba Street, Off Admiralty Road, Phase 1, Lekki, Lagos, Lagos
Fencing at Bodyline Gym
Elegant and combat don't usually go hand in hand , but they do for fencing. It increases your aerobics and improves agility and alertness. You get to relive stress and enhance your coordination.
Venue:6 Bank Road
Tae Bo at Your Spa and Fitness
This can be described as a high intensity aerobics exercise.  Tae Bo helps your heart and it burns calories easily and quickly. It's never boring and it doubles as a self defence class.
Venue:Plot 9/10 Block 2 Oniru Chieftaincy Estate, P. O Box 53197 Ikoyi, Lagos, Nigeria