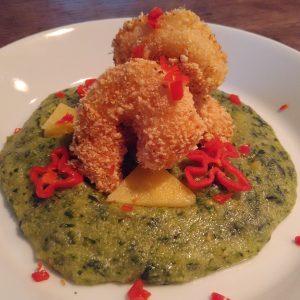 The OG Shrimp and Grits.  I absolutely love the flavor and texture contrasts in this dish! The soft sweet and savory maize and spinach porridge is topped with shrimp, not just any shrimp..But super crispy on the outside and tender on the inside, juicy shrimp. The crunchy coating has a sour hint from the Garri (cassava flakes) and a slight punch from the freshly ground black pepper.
Ingredients 1 serving
5 shrimp
1 cup garri
1 egg
1/2 cup cooked fresh Spinach
3 tablespoons cornflour
1/2 cup Corn meal / Polenta
0.5 – 1 seasoning cube
1 Scotch Bonnet
Salt & Pepper
lime juice
Preparation Method 
 Make soft polenta by a) following the instructions on the pack and adding the seasoning cube, or b) by adding half a cup of corn meal to a pot with the seasoning cube and adding boiling water little by little and continuously stirring until the maize is cooked through and your desired consistency is reached.
Add the spinach to the porridge and stir with a wooden spoon until thoroughly mixed through and keep on a very low heat to keep warm or set aside.
Assembly line time. Place 3 bowls next to eachother, 1 for the cornflour, 1 for the egg, and 1 for the garri. Beat the egg with a fork, and add some freshly ground black pepper, salt (and dessicated coconut if you wish) to the garri. Coat each shrimp in the cornflour, then dunk them in the beaten egg and then cover them with the garri.
Fry off the coated shrimp in a non-stick frying pan  with a splash of olive or vegetable oil until crispy and golden brown on a medium heat about 2 minutes each side. Once cooked, take shrimp out of the pan and drain on paper towels.
Heat up the porridge and serve on a plate, top with crispy shrimp, a squeeze of lime juice and finely chopped scotch bonnet pepper. Enjoy!
[slideshow_deploy id='4246′]