Plantain is like the perfect food. It goes well with other foods, it also goes well on it's own. But, we have been sleeping on plantain. We have not used plantain to it's full potential and this post is about to change that. Bakers, chefs and foodies around the world have proved that plantain is not just something that goes as a side to jollof rice. It is capable of standing on its own, being dessert, being anything you want it to be. Check below for our favorite recipes of plantain, culled from the world wide web, to give you some inspiration on your next plantain dish. Enjoy.
1. Plantain Lasagne
How incredible does this look? It sounds weird but when you actually think about the sweetness of a plantain with the spice of the minced meat and cheese… this could be one recipe we definitely want to try out. If you're interested… click here to find out how to make this dish.
2. Plantain upside down cake
Okay, we know – plantain cake? But again, if you think about the sweetness of plantains – it could very well go on as a topping for a cake. You'll never know until you try. Click here for the recipe.
3. Plantain cobbler
Banana's are used in so many Western desserts, so it makes sense that plantain can be used as well. The sweetness of the plantain against the crunch of the walnuts and tangy taste of the dried cranberries? Click here to learn how to make this.
4. Coconut sugar caramelized plantains
First of all, this may be the yummiest looking plantains we have ever seen. And then to know that they are caramelized with coconut sugar? If you're looking for an out of the box but simple recipe idea – click here to find out how to make this.
5. Caramelized plantain ice cream sundae
You know when you see a photo of food and you know exactly how it's going to taste and why it works? Yep, that's how we feel looking at the soft soft ripe plantains and the vanilla ice cream. Plantain is bae. Click here  for the recipe.
6. Grilled bacon wrapped plantains
We can guarantee you have never thought about bacon and plantain the same sentence. But we can also see how this can be the most perfect snack that was ever made. It's like the African version of pigs in a blanket and we are completely here for it. Recipe – here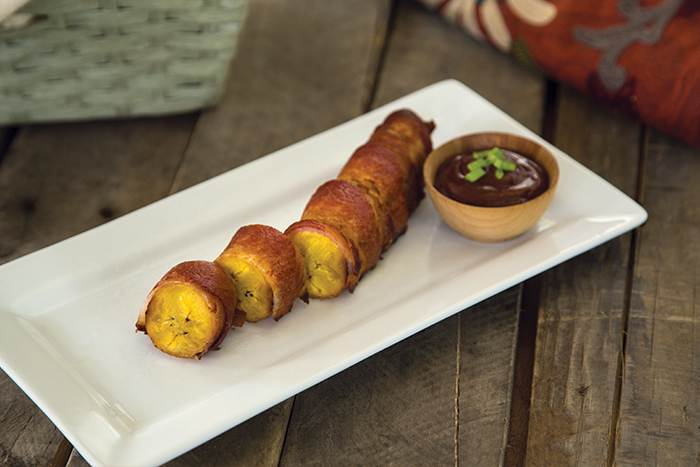 7. Sweet plantain chocolate chip pie
Who knew plantain was so versatile? Of course plantain would make a beautiful pie. Its sweet, filling and gooey and we can imagine it would be like the gift that keeps on giving. Click here to find out how to make this.