Renowned British-Nigerian artist Yinka Shonibare, known for his use of brightly coloured Dutch wax fabric, has brought his Wind Sculpture VI to Nigeria. The sculpture is on display at the Ndubuisi Kanu Park in Ikeja, Lagos, where it will stay till the 31st of January 2017, as part of the British Council's UK/NG 2015 collaboration project sponsored by GT Bank.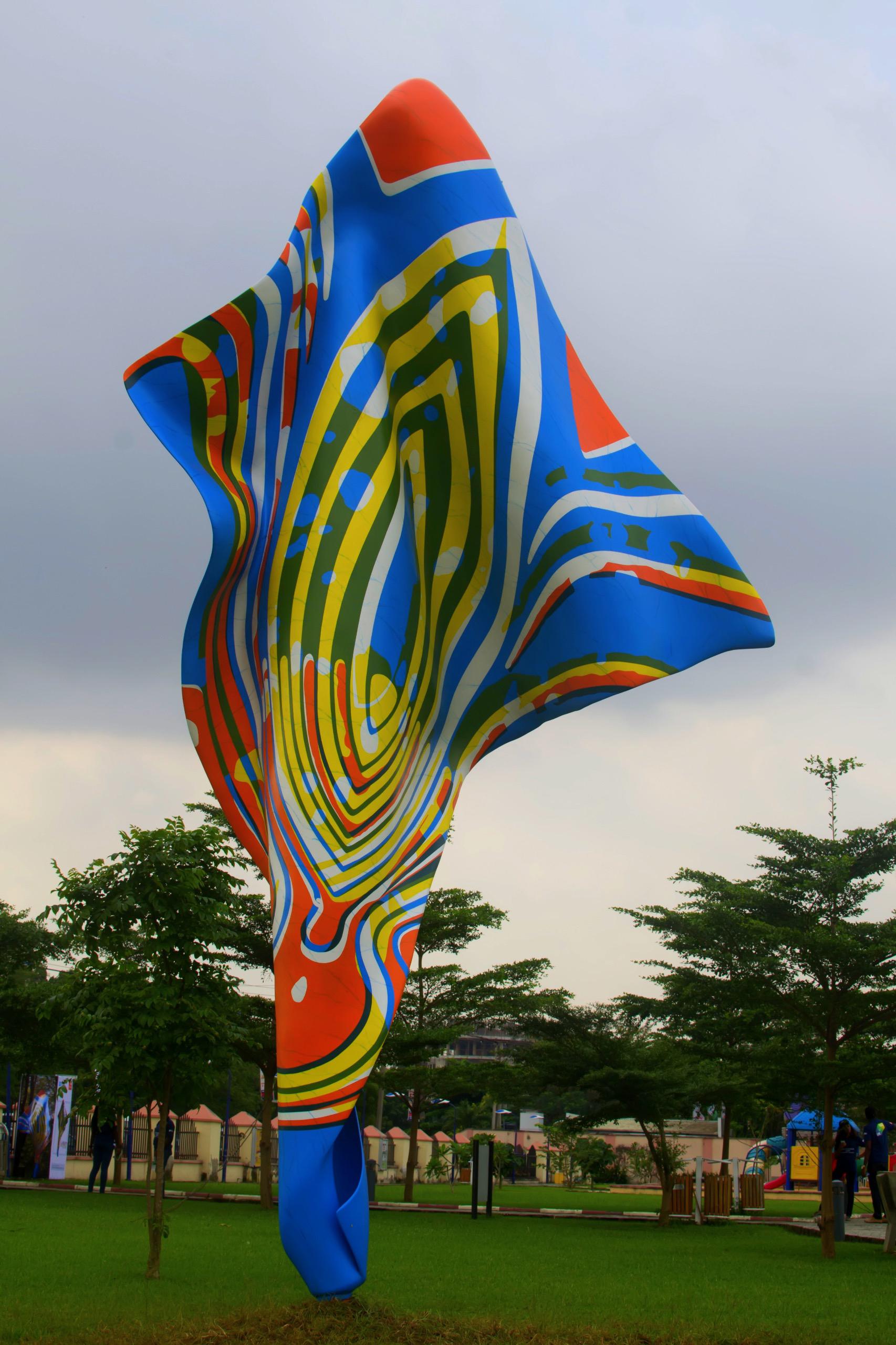 Wind Sculpture VI forms part of a series of important large-scale works by Yinka Shonibare that marked a new departure for Shonibare by working in fibre-glass and steel, the Wind Sculptures supposedly capture a moment in time where wind passes through his signature Dutch wax batik fabrics, before being rendered into six metre high fiberglass sculpture, mirrored in the patterns which replicate 'African' fabrics. There is a different pattern and palette for each sculpture in the series that are hand painted onto the surface with bright colours.
The first Wind Sculpture was shown in 2014 as part of Cannonball Paradise at Gerisch Stiftung, Neumünster, Germany. In 2014, a unique edition of the series was installed permanently on public display at Howick Place, Victoria, London. In 2013, two editions of the work were exhibited at Yorkshire Sculpture Park as part of Shonibare's major survey retrospective.
This will be Yinka Shonibare's first major exhibition held in Nigeria, the Wind Sculpture VI was unveiled at the Ndubuisi Park in collaboration with the British Council and GT Bank, in an attempt to not only create more awareness about Art & Culture in Nigeria, but also to build up the audience and interest following the industry while also strengthening the relationship and cooperation between the two countries.
As part of the exhibition, Yinka Shonibare will also be giving an informative talk about his career and works to students and guests at 3pm today the 25th of November, followed by a screening of three films by Shonibare on the 26th of November 2016, all at the site of the installation in the Ndubuisi Kanu Park, Ikeja.
---
Photography by Olupitan Olusanya