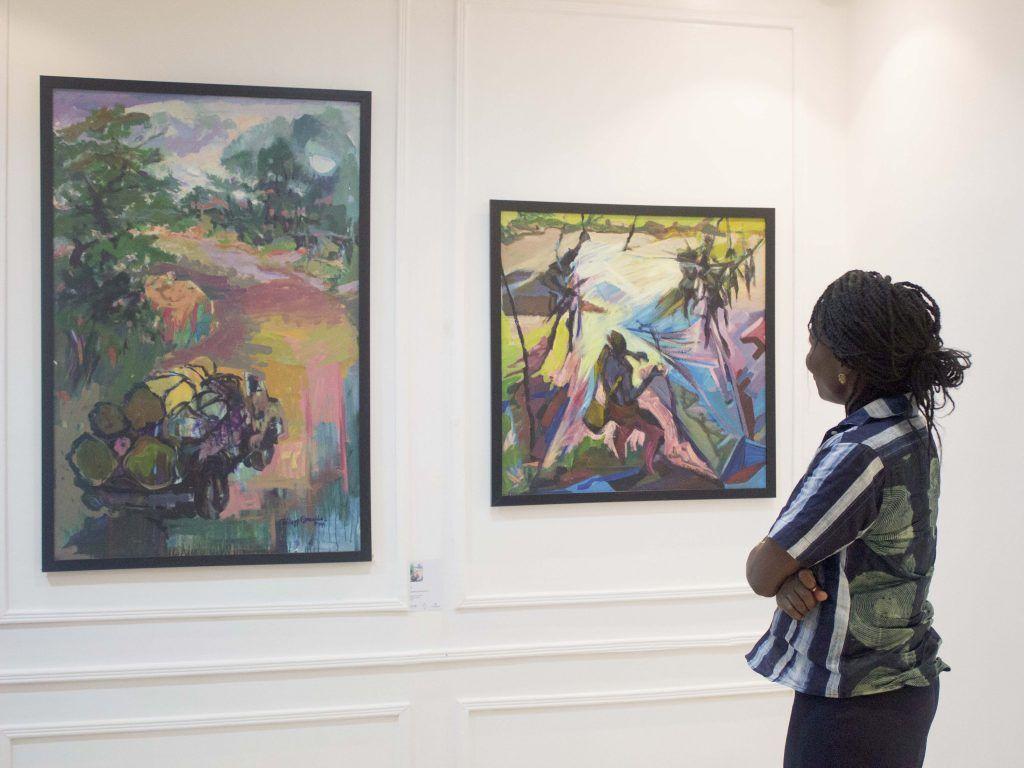 Traditional values and customs have been brought back to life in a series of beautifully bold paintings by artist Titi Omoighe. In her most recent art exhibition titled Modern Interpretations; the artist seeks to provide a fresh perspective on tradition, in hopes to preserve our rich culture which she fears is slipping away. From the beauty of our traditional maiden dances, to our symbolic royal attire, to something as simple as a discussion between elders – Titi romanticizes these traditional African forms using abstract techniques. With splashes and dribbles of color, the artist breathes life to the old, making the viewers gain new knowledge from old norms.
Omoighe's works are divided into two broad categories: her recent works show her exploring abstract techniques reminiscent of Jackson Pollok's style. While her earlier, more impressionistic Hunter series was inspired by D.O Fagunwa's Yoruba literary classic, 'Forest of a Thousand Daemons'. Titi's canvases illustrate the tale of a group of hunters as they journey through an enchanted forest on a quest to save humanity. She draws deeply from the fantastical world of Yoruba mythology and translates them into vibrant paintings with elongated human forms.
According to the exhibition's curator, Mrs Sandra Mbanefo Obiago;
"Titi's canvases reflect both the physical action of characters in search of higher meaning while engulfed in "other worldly" adventure, as well as deftly draws us into the emotional and spiritual landscapes of memory, longing and revelation"
From the 34 paintings on display, you can feel the artists fascination with Nigeria's traditions as she captures the very essence of our beliefs. Following the lines of her work, you recognize familiar gestures that symbolize norms like respect or the unmistakable mysterious pose of a masquerade or the royal gaze of a king on his subject.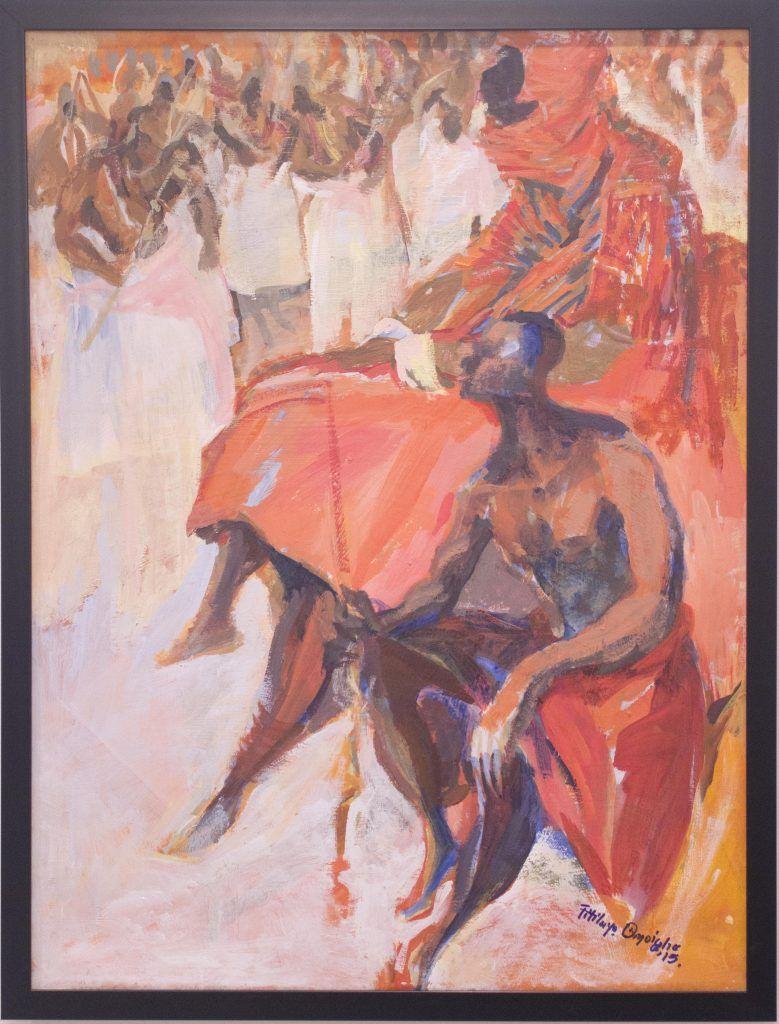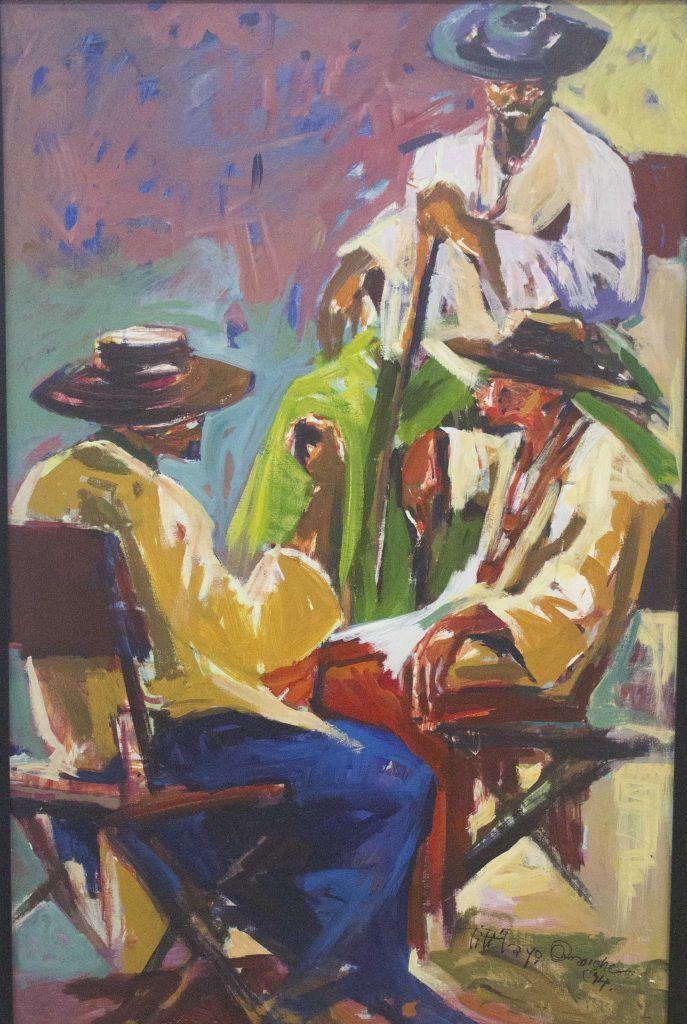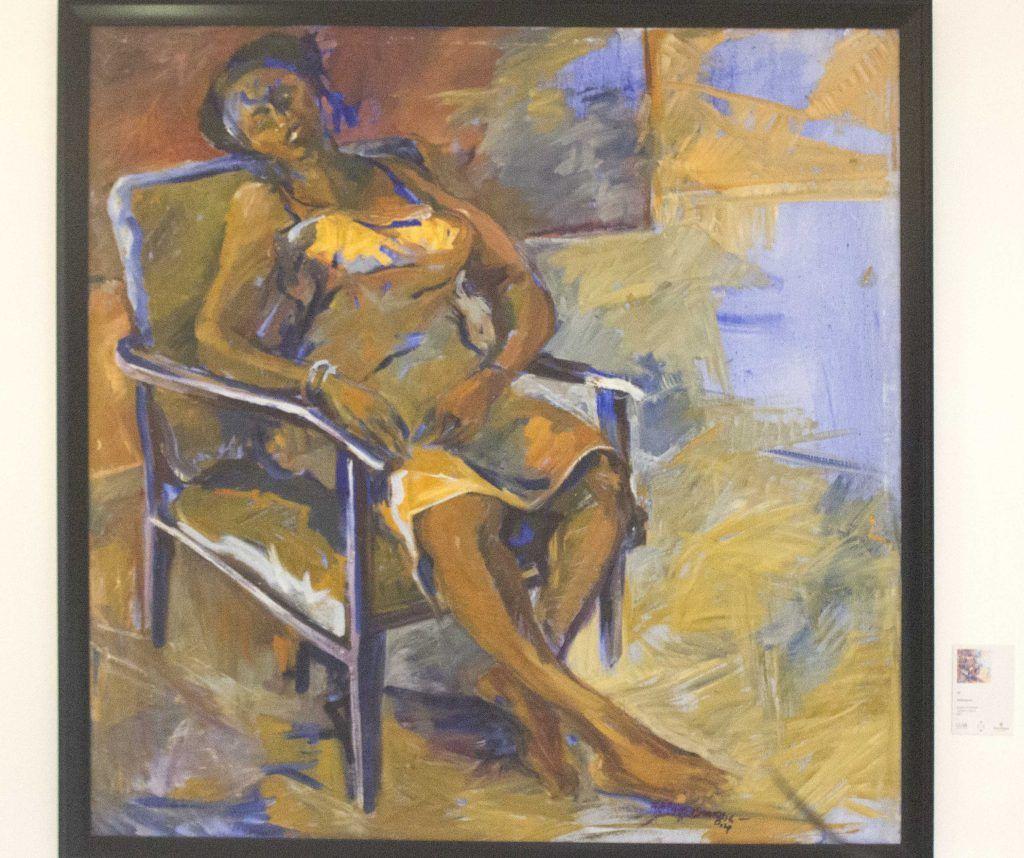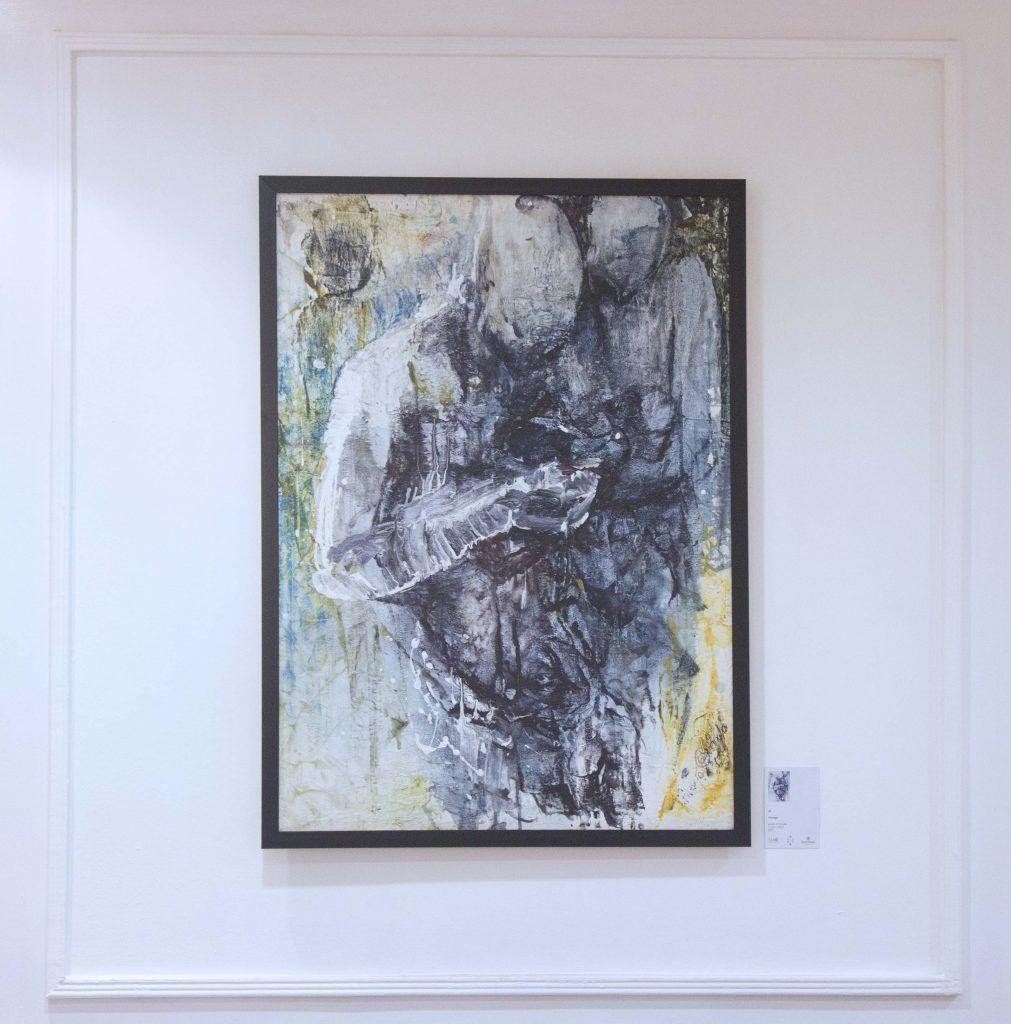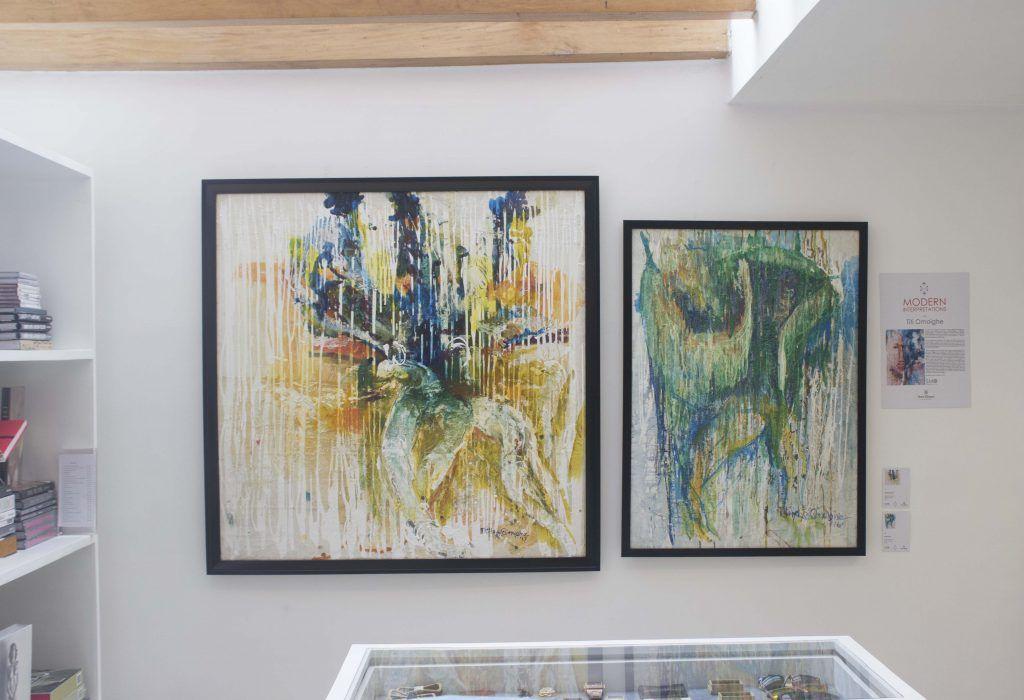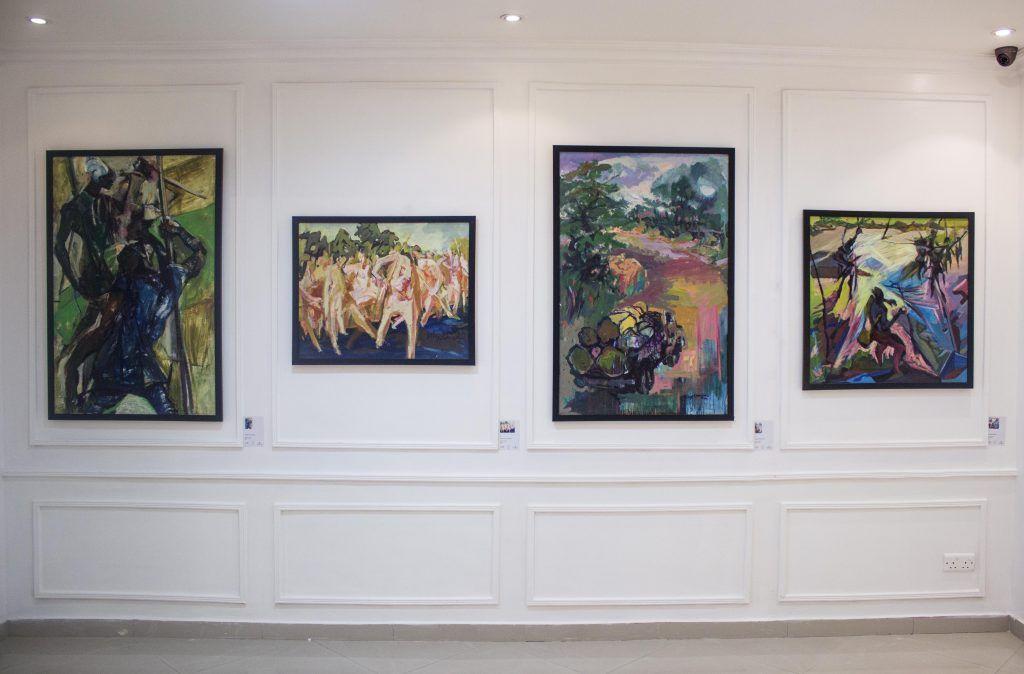 According to the artist, simple notions like elders gathering are customs that can uplift the community and bring a positive change. "We have to go back to all of this" Omoighe says.  "It is ours and is up to us to practice, preserve and celebrate our culture". 
The Modern Interpretations exhibition opens today at Temple Muse; an avant-garde design space in Lagos. You would think Nigerian ancient traditions and customs may have no place in such a modern and stylish space but to the contrary – Omoighe's works seem at home, brightening up the space with color, knowledge and understanding.
For more information on this exhibition – follow @smocontemporaryart on instagram.