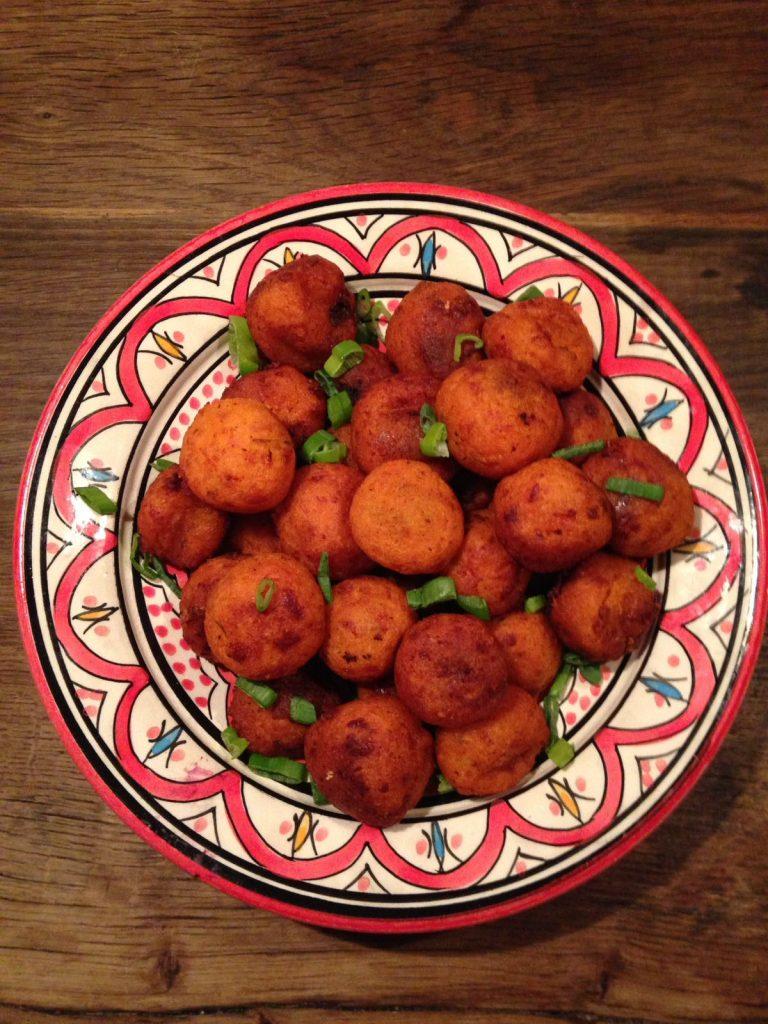 Sweet potato is way more versatile than you think. It can be used in so many different ways and this is just one of them. Many West African countries use yam for this recipe but I find sweet potato gives the balls a beautiful deep orange color and the sweetness of the potato compliments the salty garlicky meatballs – perfectly.
Ingredients
450 grams sweet potatoes (peeled, cubed and cooked until tender. if you have a microwave, stab the potatoes several times and place in a covered microwave safe bowl until cooked through 5-10 minutes )
150 grams rice flour
50 grams grated cheese
1 teaspoon baking powder
150 grams minced beef
3 Garlic cloves (minced)
1 teaspoon ground ginger
1-2 Scotch Bonnet peppers (chopped finely)
Curry Powder
Thyme
Salt & black pepper
Preparation Method
In a large mixing bowl add the sweet potato, rice flour, cheese and mix with a wooden spoon or with your hands until a soft but not sticky dough is formed and set aside.
Mix the minced beef with the garlic, ginger, salt pepper and thyme until combined. Roll small meatballs until all the mix has finished and fry off in a frying pan with a splash of vegetable oil until browned and just cooked through.
Taking a tablespoon of the sweet potato mixture at a time, flatten it out in the palm of your hand and wrap around one of the meatballs. Gently roll the ball to ensure there are no creases. Repeat until all sweet potato mixture and meatballs are finished.
You could either deep fry the balls or bake them in the oven for 15-20 minutes on 200C. Do make sure you spray with oil and turn them after 10 minutes if you ovenbake them to ensure even browning.
Serve with a tangy yoghurt garlic dip to contrast the spiced sweet potato balls, or any other dipping sauce of your choice!
[slideshow_deploy id='5819′]