The one thing that was on my to-do list (among many others) for my hastily planned trip to Morocco this past January was to get on a camel and spend the night counting the stars in the Sahara Desert. And while this sounds just about do-able (after all there are countless tour companies specializing in doing just that), there was one major thing that I didn't account for and which ended up ruining the entire experience for me – Winter!
I like pictures of cold things like ice and snow, but I don't like being cold or having to wear layers. After living in Nigeria for the past three years, I no longer own thick sweaters, tights, gloves, a winter coat, or any of the other winter apparel that is a must for those living in colder climates. And though I had grown up in the UK and the US, somehow, the three short years of being back in Nigeria completely erased my ability to handle the cold, and because I wasn't anticipating being cold nor did I do any research on the weather (just booked ticket and went blindly), I arrived in Marrakech in the middle of January dressed for the summer!! But I digress… the Sahara Desert…
Our journey to the Sahara Desert took two days from Marrakech. From Fes, it's about a 7-hour drive in a private car if you have a limited time in Morocco (there's an international airport in Fes too). From Marrakech, we first went to Essaouira for some delicious seafood, argon oil and ogling at some tree climbing goats; next we went through the Al Haouz province where we stopped to take in the breathtaking view of the Atlas Mountains; took a pit stop at Ait Ben Haddou, a walled city  (ighrem) along the former caravan route between the Sahara Desert and Marrakech; checked out Tinghir where we got to wander through the Etoile Des Gorges and had traditional mint tea with a Berber family who tried to sell us some beautiful (but very expensive) carpets, before finally making it to the Sahara Desert.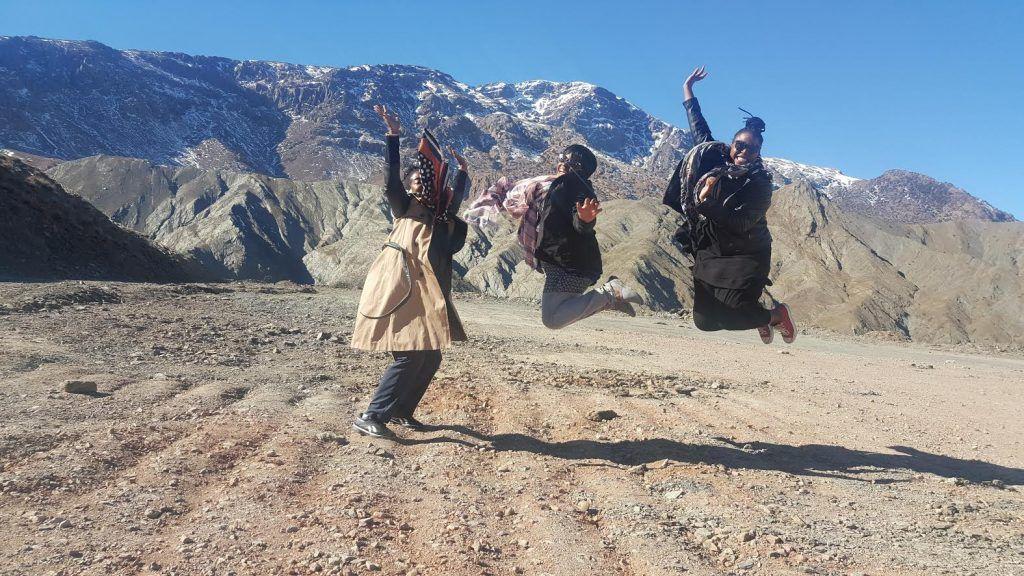 While at Ait Ben Haddou, we were advised to get "desert appropriate" scarves as the scarves we had simply would not do. You need a scarf long enough to wrap around your head and face (mouth area only) with some left over to cover your shoulders. Should you be caught in a sand storm, the scarf becomes your first defense against the finely grained sand that can get even through the thickest of wool socks. When we got to the Errachidia Province where the desert is located, we dropped our bags in a locked room at a small hotel just at the edge of the desert and took with us only the things we needed to spend the night. Desert walks to Berber camps are scheduled around sunset times, giving you the opportunity to watch the sun go down behind the sand dunes in the most glorious of reds and oranges while atop a camel that seems to be moving in slow-motion. You can get caught up with taking pictures of the sunset with all its beauty and pure nature surrounding you, all the while forgetting that once the sun disappears, it gets cold fast and nasty. That hour and a half ride on the camel to the Berber camp while the sun was still out and I was still warm was probably the best part of my night in the Sahara Desert, because I was blissfully unaware of what was coming.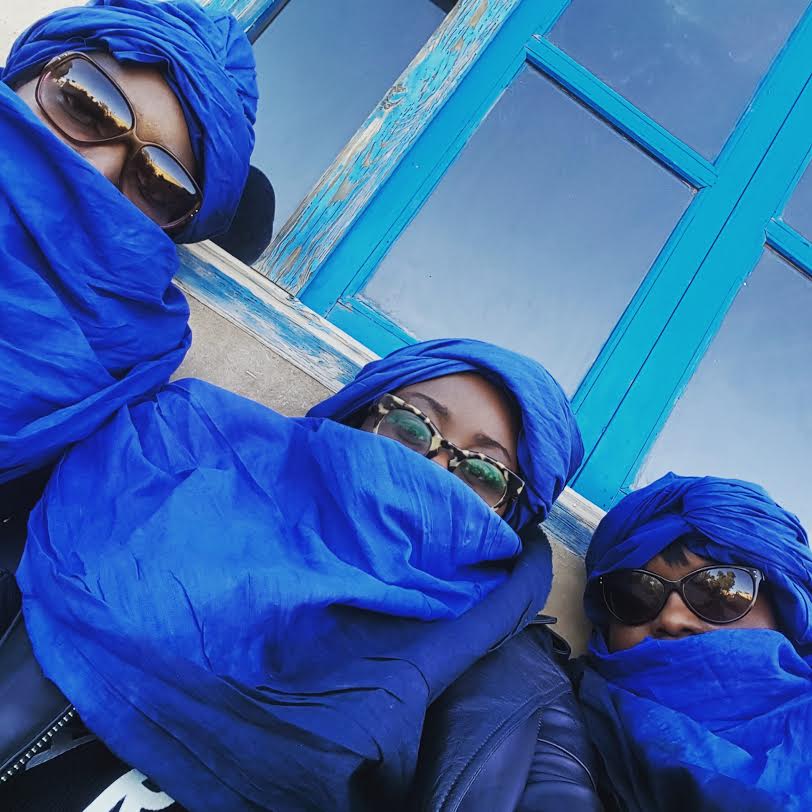 Our guides were not the most communicative lot for this tour, and as soon as we alighted off the camels at the camp, they disappeared. We later realized they had gone to prepare dinner. While there was still some natural light out, we were left to our own devices to wander around the camp and formally introduce ourselves to our other camp mates. In our group, we had some Chinese and Indian tourists, and my little delegation consisted of a Nigerian, Trinidad & Tobago and Togo sect that brought some color to the group. There were enough tents for everyone, so we choose a tent that had three beds near the "entrance" though there really wasn't an entrance, just an opening. The smell of roasted lamb and vegetables brought us out of our tent to one of the tents that had been designated the dining room. Our guides brought large group-sized lamb and chicken tagines, bowls of bread and rice, water and then disappeared for the second time that night.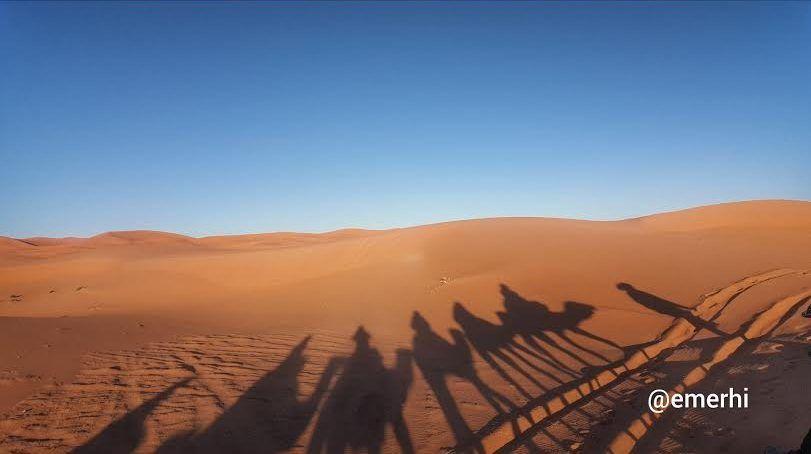 There are many tour options available for the Sahara Desert with varying prices. You can even choose to skip the camels altogether and take a 4WD to a camp with electricity and all the comforts of glamping! There are tours that have you spending two to three nights in the desert with fun activities like sand surfing and sand boarding. How you choose to spend your time in the desert is totally up to you, providing you also have the budget to accommodate it. Since my Morocco trip was more a "taste-everything" type of trip with stops in different cities, one night in the desert was more than enough.
After dinner, bellies full and slightly warmer, we headed to the little camp fire set up by one of the tour guides. We tried to gather around the tiniest-camp-fire-ever-made to keep warm, but if you were unfortunate to be further away from the fire, you simply froze. Our efforts to encourage the guide to build a bigger fire were futile; he was saving the wood for other tours and apparently, our tour was not priority ☹. Nonetheless, we sat in a circle and tried to entertain ourselves by singing songs and doing the camel-dance! With no internet (!!), no music, and no real direction from our guides except to tell us that we were to be up by 5am for the hike back to the hotel, our evening under the stars ended early. Yes, it's romantic to lay on the thick Berber carpets and look up at the night sky and see thousands of twinkling stars and realize just how small in comparison you are to Mother Nature, but you might enjoy it better if you weren't also freezing. So, night-sky gazing was limited to just a few minutes.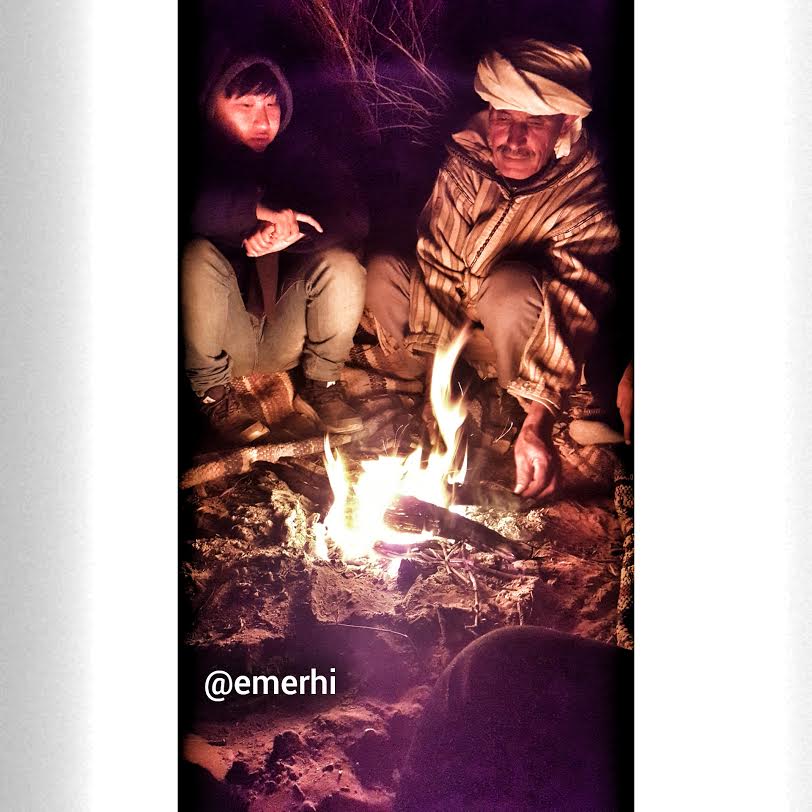 In our tents, we each had 4 thick blankets and two pillows. After wrapping yourselves in those blankets to keep warm, we eventually fell asleep. If you are one of those people that wakes up in the middle of the night to go to the bathroom, you might want to exercise some bladder control for 5 hours or so. There's no designated toilet and one of the guides happily announced that "everywhere" can be your toilet, spreading his arms while smiling goofily. Best not to think about it too much and just try to sleep.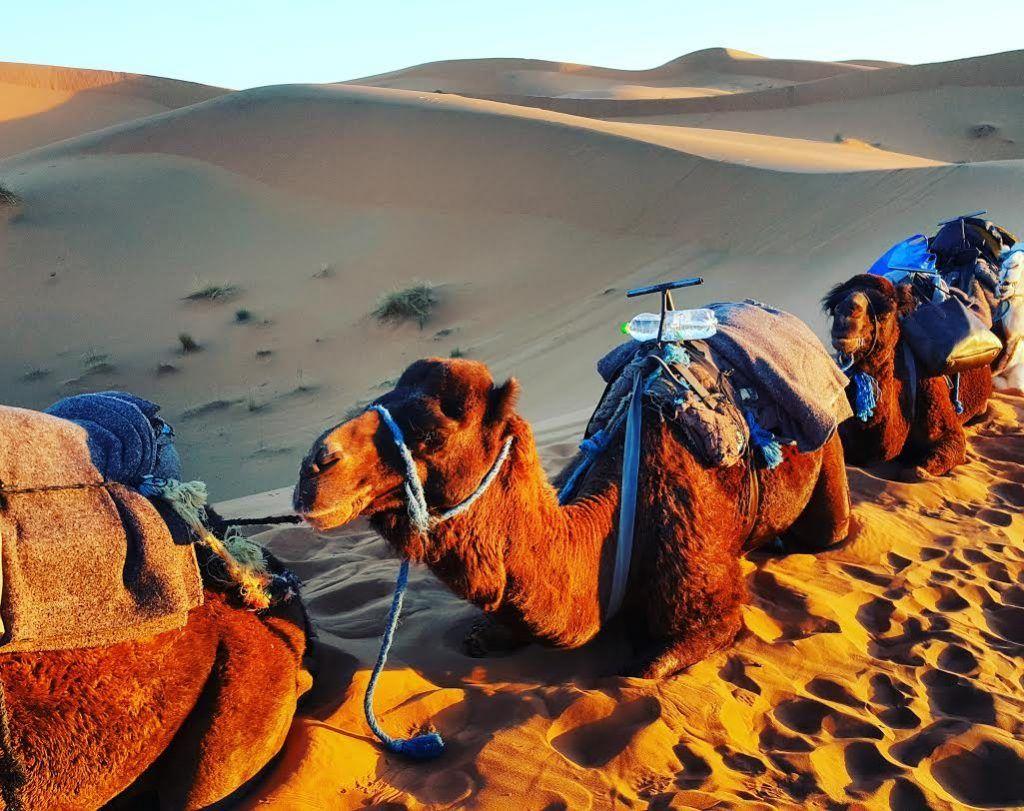 The camel ride back in the morning was not pleasant. You see, at 5am in the morning, my body had not thawed out from the night before, and there is simply no graceful way of getting on a camel when major joints in your body are still frozen. At one point, I seriously considered getting off the camel and simply walking… anything would have been better than being on that beast, but I stuck it out with the help of my friend who kept yelling encouraging phrases at me about being a phenomenal woman and all. The sight of the hotel at the end of that hour and a half hike through the desert was a beautiful thing indeed!
So, would I do it again? Yes, why not… but only in the summer. And perhaps, this time I might opt for the tour with the 4WD (I'm truly over camel rides for life now), actual beds rather than carpets, sand surfing and boarding, and a roaring fire for 50!! However, I am grateful and lucky to have been able to cross this off my bucket-list for now. It truly was an experience I would remember for the rest of my life and I'm glad I could experience it with friends.