About 8% of New Year resolutions are successfully kept. 8% guys. We all see the spike of newbies at the gym and one month later, the newbies (and yourself, don't lie) are nowhere to be found. Setting goals on the first day of a new year pretty much sets you up for failure because it all happens to quickly.
New Year Resolutions shouldn't be something you scribble down in your diary the day before New Years. You need to seriously reflect on the year and make sure you set new goals for yourself that are genuinely realistic and achievable.
Here are 6 tips to start your resolutions early and skip the fresh year anxiety.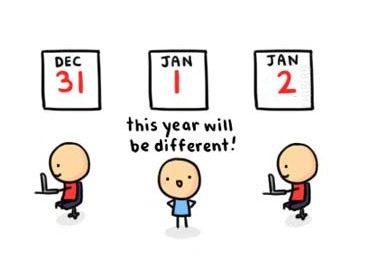 1) There will be less pressure
When you put 365 days in front of your quest to 'become a better human being' – the pressure is automatically on. But if you start before the new year start – the burden of that little paper becomes significantly less.
2) You are more likely to stick to them
You are setting your own terms and rule, not making for some enchanted 'new day, new year, new me'. You will treat the coming days as new regardless of the date.
3) Your goals are more realistic
There's not that pressure to write 100 things on your new years list. People never take into account the amount of time it takes to accomplish the goals. Starting early gives you the ability to think about your plans and set realistic ones.
4) You will be more structured
It's like studying for exam. If you take a solid month or two to study for the exam, you'll be better prepared. But if you show up to the exam hall expecting to just breeze through, there is more likelihood of failure.
5) There's a lot you can accomplish between now and the New Year:
If you're the competitive type, you have  a head start in the goals section. And if you aren't, you still have a head start. Who says no to a head start?
6) There's no better time than today
Why do you have to wait for a new year to become a new you? The best time to quit a bad habit or start a good one is right now. You don't need a new year to what you already should be doing.
Armed with these six insightful reasons – you should be ready to start your New Years resolution today. May the force be with you.